WHAT IS THE PICKATHON COSMOS?
An animated sky canvas of curated digital art.
This year at Pickathon we're illuminating a massive sky canvas with projection mapping, curating a lineup of digital artists, motion animators & creative coders to showcase a display of animations, interactive art, and sound reactive visuals.
This large canvas will shine above the Galaxy ArtYard nightly.
Curated by Eric Cade Schoenborn and Craig Winslow.
Eric Cade Schoenborn
Eric Cade Schoenborn blends design, community and storytelling to forge experiences that have engaged millions, online and offline. Eric is co-founder of Pickathon Music Festival, in Portland, Oregon, and an exhibiting artist, designer, developer who has spent the last two decades in collaboration with nonprofits, cultural institutions, advocacy organizations, musicians, journalists, artists, tastemakers, policymakers, misfits, entrepreneurs and innovators worldwide. His work has appeared in Wired, Rolling Stone and The New York Times and has been recognized by Sundance, SXSW among others.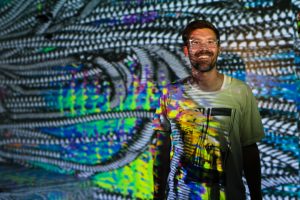 Craig Winslow
Craig Winslow is an experiential designer with a passion for blending the physical and digital, and a fascination with how we incorporate the past within the future. His creative pursuits focus on creating the 'never done before', bringing specialty concepts to life using a mix of new, old, and emerging technologies— aiming to please with playful, clever, and charming experiences.
Craig's work has been featured in FastCo Design, Creative Review, Gizmodo, and The Great Discontent. He's been fortunate to work directly with clients like NikeLab, Coca-Cola Consolidated, The Neon Museum, Adobe, Portland Trail Blazers, and Princeton University.
www.instagram.com/craigwinslow