In just over a decade, Jonathan Toubin — rock and soul 45 DJ and proprietor of the New York Night Train brand party production enterprise — has charted a career that is culturally and commercially unparalleled – reigning as America's most popular and prolific soul party DJ and 45rpm vinyl DJ. With a visionary take on nightlife and an obsessively curated collection of obscure 7-inch records, Toubin sells out clubs and performs at major rock concerts and festivals around the world. Though known for the burning immediacy of his "maximum rock and soul" sets at the weekly Shakin' All Over Under Sideways Down dance, his instructional Land of 1000 Dances spectacle, his elaborate multi-media "Happenings", and other trademark parties, Toubin's take on 1960s soul music, the Soul Clap and Dance-Off, has left the biggest footprint on contemporary urban nightlife and put Mr. T on the map as soul man.

Working over 2000 gigs in the last decade, Jonathan Toubin has managed to keep one spectator brogue in the counter-culture from which he emerged (punk bars, DIY basements, loft parties, art galleries, rock venues, and shady afterhours spots) while crossing over to dance clubs, prestigious festivals (Bonnaroo, All Tomorrow's Parties, End of The Road, etc multiple times) boutique hotels, museums, ivy league colleges, fashion parties, arena pop/rock shows, raves, and even headlining his second gig at Lincoln Center. He's also the only DJ given an entire official night at SXSW. Its become the festival's official closing party and he's done it six of the last seven years! Toubin continues to play the world's most infamous dives and rock clubs while garnering press in highbrow publications and receiving nominations for nightlife awards from the fancier side of culture in the process. He also the first 45 DJ with mixes available on Burger Records and the first living DJ with compilations of his work on the legendary Norton Records – the LPs Souvenirs of the Soul Clap, Vol 1, 2, 3, 4, and 5.

Jonathan Toubin debuted the Soul Clap and Dance-Off in March 2007 as a monthly outlet to play his growing collection of soul 45s to a small north Brooklyn underground art/rock social community in the spirit of 1990s indie/punk scene parties. He added a brief dance-contest to the mix to make the event more interesting. As this humble makeshift neighborhood underdog evolved into an institution, Mr. T employed the party's popularity as a weapon against tired hit nights, 80s nights, and other mediocre contemporary night culture of the time – offering an alternative in the possibility of dancing to exciting music most of us have never heard before with the unparalleled sound of the original recordings. The epic size, frequency, and geographical breadth of the Soul Clap has been a seed for a new wave of soul dance culture among indie rockers, punks, and hipsters (for lack of a better term. Contemporary underground culture-consuming urbanites?) first in Brooklyn, next in Manhattan, and, by 2009, around the world – inspiring slews of imitators and developing new nightlife economies everywhere from Portland, ME to Portland, OR, from Berlin to Buenos Aires, from Tasmania to Tel Aviv.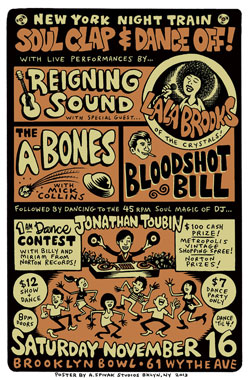 In addition to the notorious dance contest, New York Night Train parties have been made even more interesting by including live music, notable guest DJs, visuals, dancers and performance in the mix. Andrew WK, Black Lips, Coathangers, Dum Dum Girls, King Gizzard and the Lizard Wizzard, King Khan and the BBQ and King Khan and the Shrines, Mac DeMarco, the Oh Sees, Quintron and Ms Pussycat, Charles Bradley, The Gories, Shannon and the Clams, Sky Saxon, La La Brooks of the Crystals, Wreckless Eric, Reigning Sound, and dozens and dozens more have played at NYNT events. In addition to practically every major American 45 DJ of note, the hoodangs have also featured guest selectors from across music: Calvin Johnson (Beat Happening), Danny Kroha and Mick Collins (The Gories), David Johansen (New York Dolls), Genesis P-Orridge (Throbbing Gristle), Gibby Haynes (Butthole Surfers), Ian Svenonius (Make-Up), James Chance (Contortions), Jared Swiley and Cole Alexander (Black Lips), Jello Biafra (Dead Kennedy's), Jon Spencer (Pussy Galore/JSBX/etc), Kembra Pfahler (Veloptuous Horror of Karen Black), Kool Herc (father of hip hop), Kyp Malone (TV on the Radio), Lenny Kaye (Patti Smith Group), Nick Waterhouse, Sean Yseult (White Zombie), Nick Zinner (Yeah Yeah Yeahs), Randy Jones (The Village People), and many more. Finally, outside of his own parties and rock festivals, Jonathan DJs at live shows by the underground rock and roll bands you would expect but has also has found himself working at rock shows odd pairings as diverse ad Action Bronson, Black Keys, Bon Iver, Charlie XCX, Dinosaur Jr, Erykah Badu, Faith No More, F*cked Up, Interpol, Jack White, Kendrick Lamar, Killer Mike, LCD Soundsystems, MGMT, MIA, Mission of Burma, Odd Future, and Rick Ross.

December 7, 2011, while Toubin was on tour in Portland, OR, a runaway cab crashed through his first-floor hotel room – landing on top of him. In critical condition and sedated in the ICU for over five weeks, and in full-time intensive rehabilitation for months, the soul proprietor's friends and fans around the United States took action – throwing dozens of benefits in his honor everywhere from New York to Los Angeles and Detroit to New Orleans – featuring everyone from Yeah Yeah Yeahs to Ty Segall to Maragaret Cho. Many operations and months of physical therapy later, New York Night Train's conductor proved that he would not let 26 major injuries bring him down – making his public debut as the surprise DJ at Jack White's Webster Hall show April 27 (less than five months after the accident that doctors predicted would take at least a year to recover from enough to function on a basic level).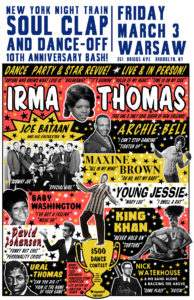 Putting all the obstacles behind him, Jonathan Toubin continues to move forward and up the ante for his DJing and parties, improving his records, DJing, and crowds each year. 2016 concluded with the release of his 5th Norton Records compilation LP, "Souvenirs of the Soul Clap, Vol. 5" and 2017 begins with a huge party March 3 celebrating the 10th Anniversary of the NY Night Train Soul Clap and Dance-Off, where the DJ leaves his vinyl at home and shines the spotlight on the artists who originally recorded them – Irma Thomas, Archie Bell, Joe Bataan, King Khan, David Johansen, John Batiste, Maxine Brown, Young Jessie, Baby Washington, Ural Thomas, and Nick Waterhouse and the Tarots. There will of course also be a dance contest. Also the Soul Clap and Dance-Off is the official 2017 South By Southwest closing party. The remainder of the year finds Toubin and his celebrated party at festivals from Oregon's Pickathon to the UK's End Of The Road and in dozens and dozens major North American and European metropolises.
Save
Save