Thursday Night Curation Dinner
Thursday, Aug. 2, 2018
with Black Pumas
Tickets available here!

Menu:
Snacks: Kelaguen Mannok yan Titiyas
cold, chopped grilled chicken with grated coconut, green onions, onions, chili peppers, and lemon juice served with coconut milk flatbread and little gem lettuce
Dish 1: Kadon Pika (Spicy Soup)
grilled and braised pork ribs with spicy tamari vinegar marinade, onions, garlic, ginger, coconut milk, greens & roasted summer root veggies
Dish 2: Cranberry Latiya Roll
chiffon cake, cranberry and vanilla custard, coconut candy, hazelnuts, sugared cranberries, shortbread cookie, cinnamon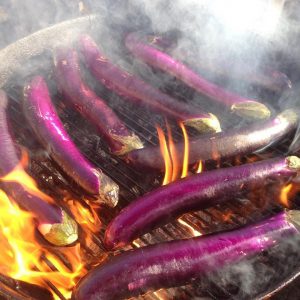 Food provided by Flying Coyote Farms, Wilder, Starvation Alley, Tillamook, & Vibrant Valley Farms.
Beverages provided by Gigantic Brewing, Guilder, Riff Cold Brewed, Banhez Mezcal & served by bartender DPG of Bar Casa Vale.

Ed Sablan is the chef and owner of PDX671, a food cart in Portland, Oregon, where he's been serving Chamorro-forward cuisine since 2010. Originally from the beautiful Mariana Island of Guam, Ed moved to Portland in 1993. He spent 2 years studying art, and then 2 years studying music… all the while working in kitchens.
Since childhood, Ed had always found enjoyment in creating things. As he searched, trying to find his medium of expression, he found what had always been right in front of him. Ed fondly remembers how food made an impact on him early in his life. He grew up watching his mom & dad, aunties, uncles, cousins & grandparents cook food for each other and the family. With ovens baking and roasting… burners stewing and frying… the grills bellowing out magic, always present was community, family, and love
In 2003, Ed attended Western Culinary Institute, and has been pushing Chamorro-forward cuisine from Guam ever since. In 2010, after taking jobs in kitchens such as St.Honoré Boulangerie, The Heathman, & The Hilton Hotel on Guam, Ed opened PDX671 (fusing Portland's airport code with Guam's area code) – honoring his Chamorro culture's adaptability to the ever-changing culinary world.
Ed's heartfelt approach to cooking great food has propelled PDX671 to gain recognition and credibility through publications on Guam and here in the States. His food has been highlighted in The Oregonian, Willamette Week, Portland Monthly, and Saveur Magazine. Ed himself, has been featured in two episodes of the Food Network's Diners, Drive-ins, & Dives, which has aired globally.
In 2016, Ed was invited back to Guam to cook alongside his culinary mentors, for the 12th Festival of Pacific Arts, showcasing Chamorro cuisine. Currently, Ed has been focusing on his numerous "Biba! Food of Guam" pop-up dinners, furthering the conversation of his native Chamorro culture. From fire and smoke, ocean and earth, Ed Sablan's Chamorro-forward cooking style comes from the celebration of his culture's past and the excitement of possibilities. Biba!